Support Services:

Customize as Needed
Prompt, Skilled, and Tailored to Your Needs
In the realm of IT infrastructures, the occasional malfunction is inevitable, perfectly aligning with the infamous "Murphy's Law" - "Anything that can go wrong, will go wrong." Our paramount commitment is to stand by you promptly and proficiently to rectify faults and efficiently solve emerging problems.
For several years, our devoted engineers have been unwaveringly providing support to our customers on a daily basis. We invest in augmenting the expertise of our team members and perpetually broaden our Support Service. For inquiries beyond regular business hours, we've established a professional call center to field inquiries and route them to the appropriate engineers.
Complimentary General Service Essential - we're available for you round the clock. As soon as you opt for a maintenance or support solution from a manufacturer, you're entitled to our General Service, our on-demand support.
24/7 Support with Various SLAs. Our General Service is available in four distinct variants, each offering different response and intervention times.
Owing to our manufacturer certifications, BNC is proficient in delivering top-tier, first-level support for the following manufacturers.

_Check Point Certified Support Provider

_NetApp Support Services Certified

_Extreme PartnerWorks Certified

_Aruba Support Partner

_Arista Support Partner
SERVICE INTEGRATION
You can blend various Support Services in accordance with your specific requirements and needs. We deliver precisely the service you necessitate - no more, no less.
As a comprehensive service provider for the IT infrastructures of medium to large Swiss enterprises and organizations, we extend a professional Support Service. BNC provides competent, swift, and uncomplicated support in the management of your IT infrastructure.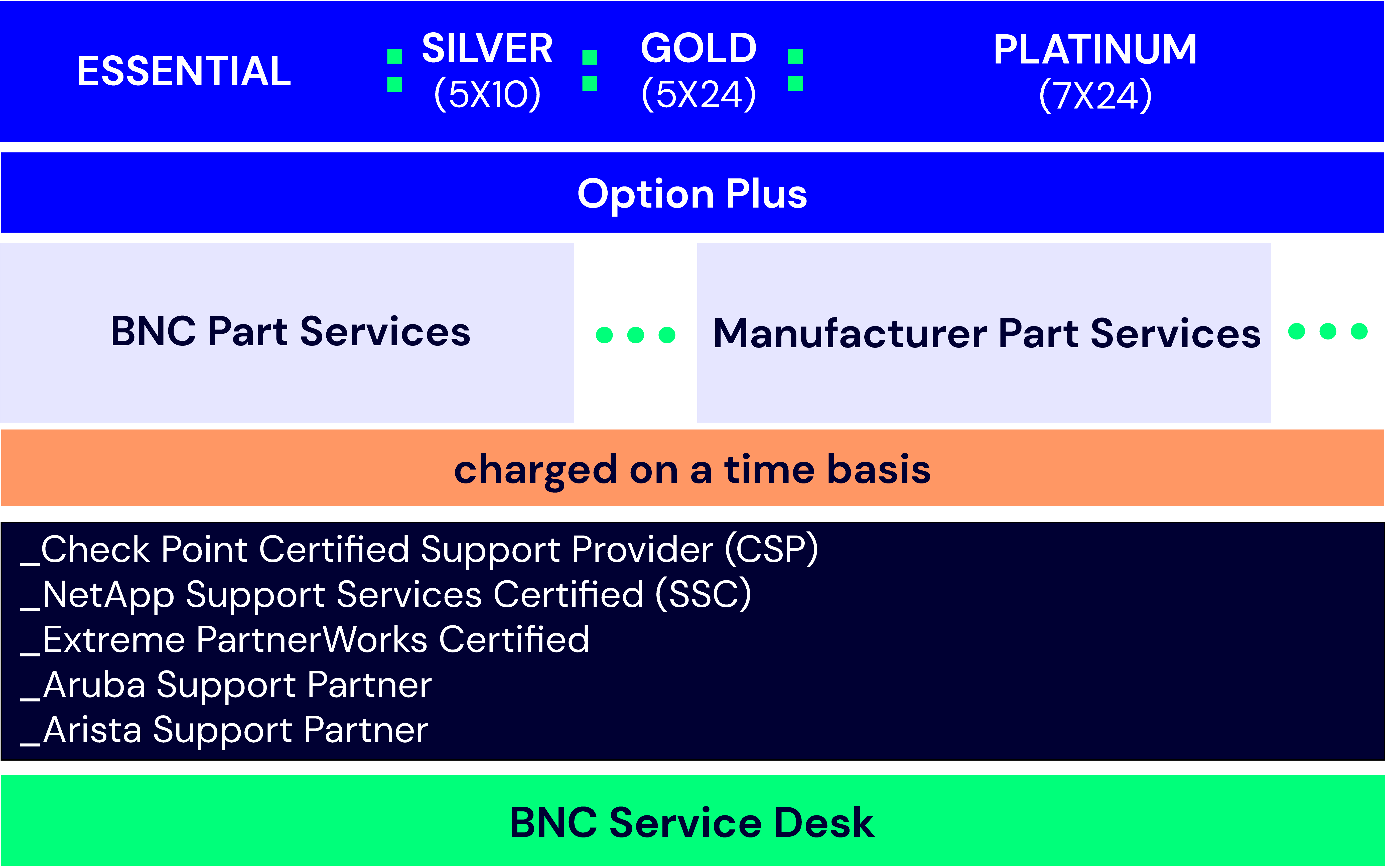 YOU MIGHT ALSO BE INTERESTED IN...