Managed Services:
Customized to Enhance Your Specific IT Infrastructure
Dependable Expertise for Secure Operations and Agile Adaptability
Modern IT setups involve intricate systems needing expert knowledge for upkeep. Retaining skilled IT professionals poses challenges, and with looming threats like data breaches, security is paramount. We help shoulder this with our Managed Network & Security and Hybrid-Infrastructure services, covering areas like Network and Data Center Security.
Our Managed Services distinguish themselves through exceptional quality. Our Support & Operations personnel boast not only certifications and technical proficiency but also bring a wealth of proven experience to the table, all while communicating effectively in multiple languages. Leverage our comprehensive expertise to drive your operations forward without losing sight of your financial objectives.
Consolidate your foundational IT infrastructure services under a single partner to guarantee seamless interaction between all components. We shoulder the responsibility of daily IT operations, empowering you to channel your focus towards more strategic and growth-oriented tasks.
Our proposal encompasses scalable services, supplemented by the provision of extra resources as your needs dictate. With our managed services, you maintain flexibility, acknowledging that business requirements inevitably evolve over time.
Navigate Complexity and Boost Efficiency with Our Superior Managed Services
Navigating the challenge of sourcing competent IT professionals, and retaining them for an extended period can be daunting. This situation can lead to potential bottlenecks, thereby disrupting the smooth functioning of your IT department.
As part of our Managed Network & Security or Managed Hybrid-Infrastructure offerings, we collaborate closely with you to plan, implement, and operate your infrastructure. Our wide range of services encompasses Network Services, Secure Access Services, Data Centre Security Services, Storage Services, and Virtualisation Services.
By choosing us, you gain the support of a seasoned team of IT professionals dedicated to maintaining your IT operations. We mitigate security risks by employing proactive monitoring, regular software updates, and advanced threat detection.
As a leading provider of managed services over the past decade, we, at BNC, have had the privilege of supporting numerous businesses. Our constantly evolving Support & Operations organisation, coupled with our ISO 9001 and 27001 certifications, positions us optimally to help you conquer the intricacies of IT management.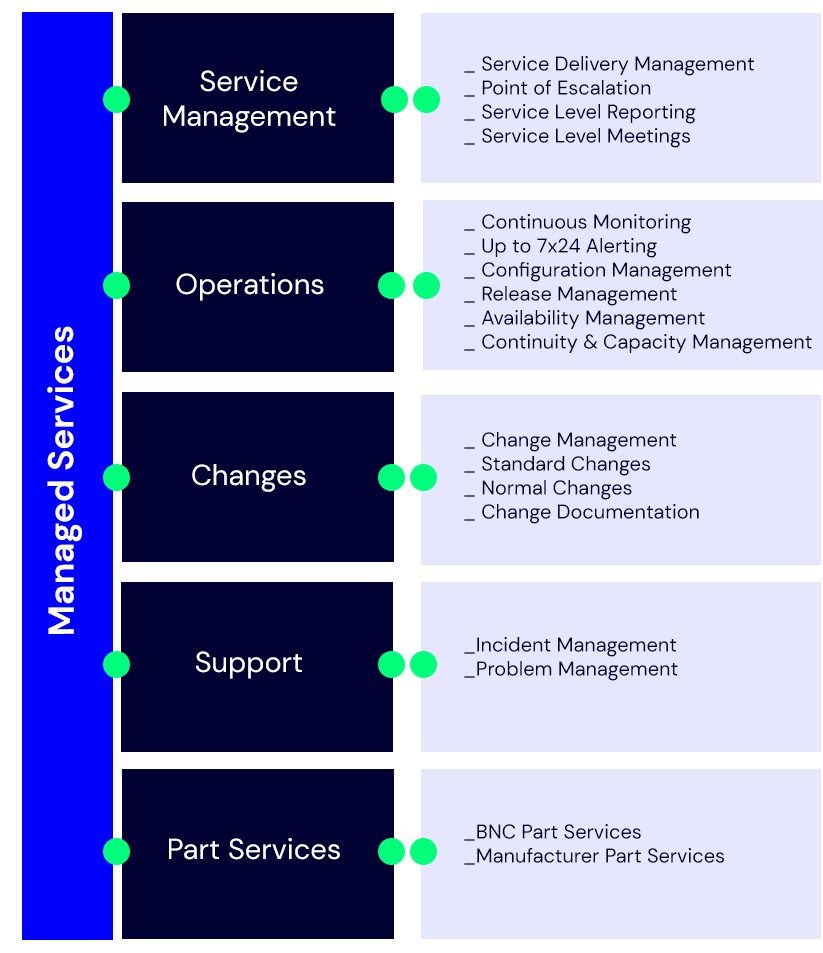 Case: AMMANN
Global Modernization and Standardization of LAN and WLAN
AMMANN opts for BNC's Managed Services
Case: USM
USM Speeds Up Its Digital Transformation
Global Smart Digital Workplace Enabled by Aruba's Mobile-First Architecture
Case: SABAG
SABAG Group: Focus on Network Security, Scalability and Flexibility
BNC Secure Access Service has improved efficiency and security for the SABAG Group